Elixir's
Ninth Feng Shui Window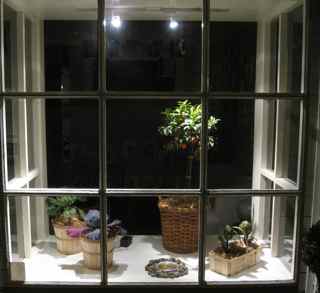 01/05/10 (21/11/4707)


Ji/Yin Earth
Cho/Yin Earth (Ox) Year


Bing/ Celestial Yang Fire
Zi/ Terrestrial Yin Water(Rat) Month


Yi/Yin WoodMao/ Yin Wood (Rabbit) Day
This is the beginning of the twelfth Chinese Solar Month of Xiao Han , Small Cold.…


This month's basic feng shui framework

Cho/ Terrestrial Yin Earth, which is gardens or any land that is worked along with water to produce things of value.
Secondarily, Cho converts to Gui/Celestial Yin Water, which is the depths of space, Mist and Fog, Ji/Celestial Yin Earth, which is the matter in the universe, and Xin/Celestial Yin Metal, which is air and the luminosity of stars and planets.





Discussion about this month's window

The basic idea for this month's window was to create a winter garden. This was our expression of Terrestrial Yin Earth...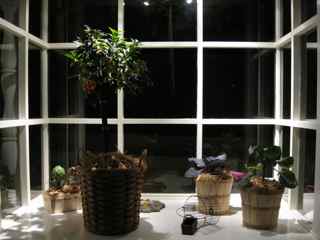 We also pulled in some of last moth's elements, such as the frog, and included a 19th century American silver salver to make a Celestial Yin Metal pond to reflect and condense Celestial Yin Water. The silver shovel is a 20th century American sugar spoon...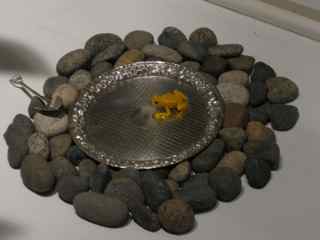 The most striking and fresh player in the garden for me was this Kumquat tree in a contemporary Asian basket: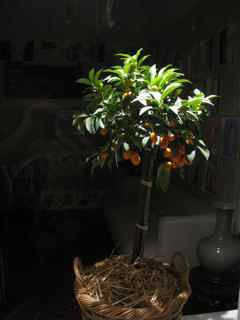 We included a pair of 20th Century American baskets to emphasize the harvesting dimension of our garden. We included both squared and rounded shapes to bring together heaven and earth...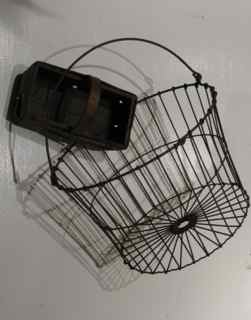 Which we flanked with a pair of cabbages, also in contemporary Asian basketry.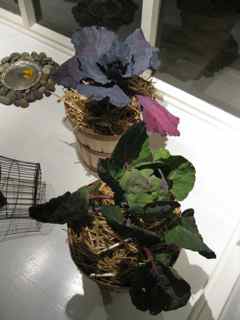 The final players in our winter garden were a pair of 20th century Italian Tole Ware artichokes of painted metal. The artichoke was one of the first plants that humans domesticated. It came from a thistle that grew along the Nile. This reflects both the epitome of land that is worked along with water to produce things of value, and the Celestial Yin elements, as the Nile has always been considered to be a reflection of the Milky Way. It is an Earthly reflection of our cosmic origins, a perfect homage as we begin our preparations for the New Year of the Yang Metal Tiger...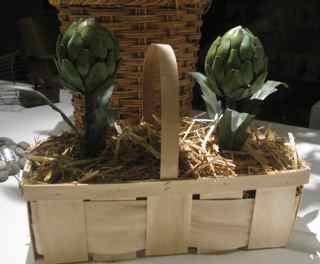 Take home lesson

There's something shocking about life springing up in the middle of winter. This is the essence of the time. Terry captured this surprise perfectly with the Kumquat tree's dramatic color and explosive verticality. One thing I really noticed was how we've been sculpting the space in the window has set up parameters of expectations. This is exactly what Terry broke with the Kumquat tree. It's a great demonstration of his mastery at expressing the energy of the moment.
The power of this practice is in nuance. Its subtlety becomes a vehicle for a kind of visceral/ intuitive understanding. The edge of this understanding extends itself into a further vehicle for synthesis with the freshness of the now. That's where the real juice is.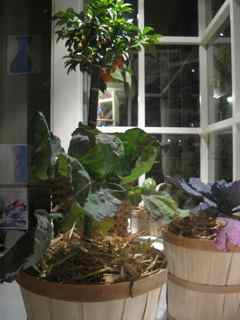 Back to Elixir's Feng Shui Window Gallery

Elixir's feng shui Windows are a collaboration between John Mini and
C. Terrence Schell.





John Mini, M.S.C.M./ L.Ac.