Aesthetic Alchemy:
An Unprecedented Display of Ritual Magic in the Streets
of Belvedere-Tiburon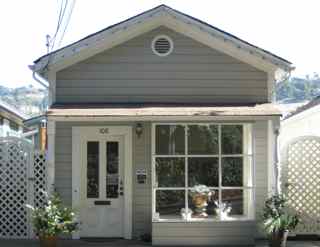 (I've preserved this page as is without editing it after the fact. This way you can get the flavor of the scene as it really was. At the bottom of the page, you'll discover links to find out what really happened...)


Thousands of people are going to come to the Tiburon Art Festival on August 22/23, 2009. All are eager for an unforgettable experience. All are highly unlikely to have it unless something out of the ordinary happens.
In my opinion, a proverbial Black Swan needs to beat its mythical wings over the Town of Tiburon for two days at this time without stopping.
I'm an Ark Row businessperson without the need or desire to sell anything to this hungry audience. So I was frustrated for weeks over what to do for the Tiburon Art Festival this year. Then one night after having a talk with local artist Heather Martin about the festival I had a brainwave:
Why not do what we're already doing, but in a much bigger way?
What does this mean? For the last several months, I've been teaching the Belvedere-Tiburon community about the feng shui of time. One of the tricky dimensions of working with the feng shui of time is that you can go way over the top with its complexity. This is because the building blocks of these feng shui relationships are constantly changing, and it isn't practical or desirable for most of us to live in a state of perpetual ceremony.
Except on special occasions.
So I decided to do exactly that at Elixir during the Tiburon Art Festival. I'm going to let the texture of time determine the creation. I'm going to convert Elixir into a meaningful ritual space that dances with the feng shui of time.
The challenge is to create an interactive sacred space in a non-sacred environment. On top of that, people need to be able enter and leave this space at will.
Is it possible? I believe it is.
Dancing with the feng shui of time does not mean flitting off willy-nilly in a catharsis of random self-expression. Here are the elements we'll be working with on each day:

August 22, 2009

What really happened on 8-22-09 at the Tiburon Art Festival

August 23, 2009

What Really Happened at the Ceremony on 8-23-09

Feng Shui Gallery






John Mini, M.S.C.M./ L.Ac.